Nature-based solutions (NbS) have emerged globally as one of the key sustainable and affordable ways to fix the broken urban water cycle and contribute to improve river/basin – cities health. While appropriate public policies are essential to mainstream the use of NbS, revisiting practical NbS implementation cases can provide important inputs to better understand how to properly shape these policies.
Based on case studies from different geographies and social and economic contexts, this session aims to discuss how to create an enabling environment for mainstreaming NbS in urban and basin water management, considering the various implementation scales, the multiple stakeholders involved, and the technological solutions available.
In addition, this session will be an opportunity to showcase IWA Strategic Programmes focused on mainstreaming innovative good practices/solutions that contribute to the progression of water management worldwide and support achieving SDG 6, especially the new Inclusive Urban Sanitation initiative.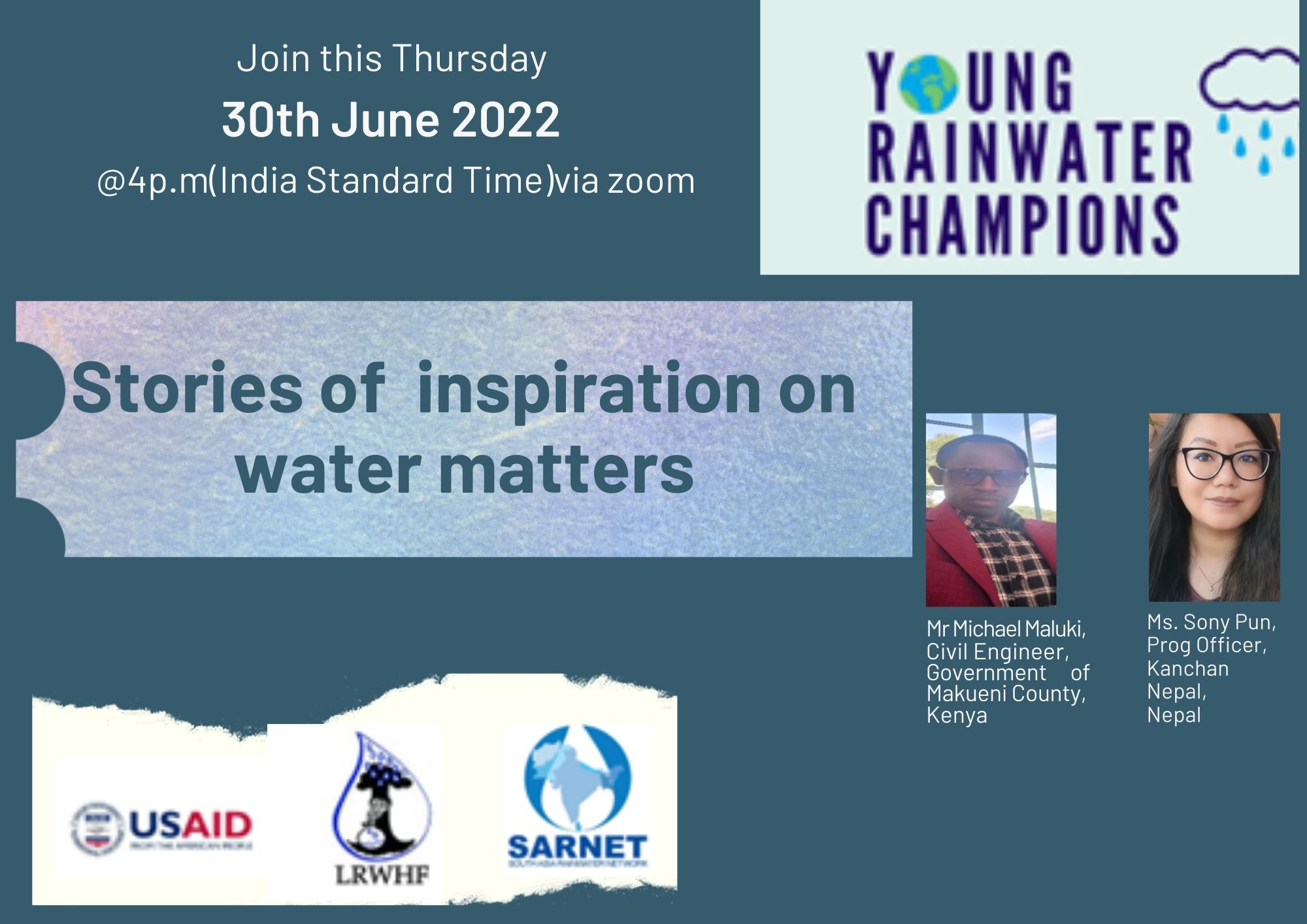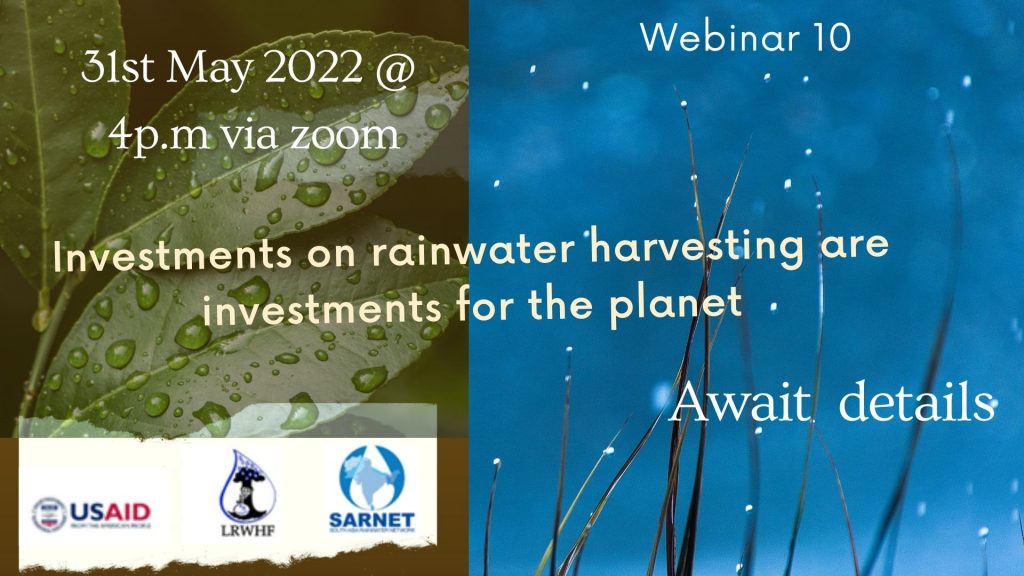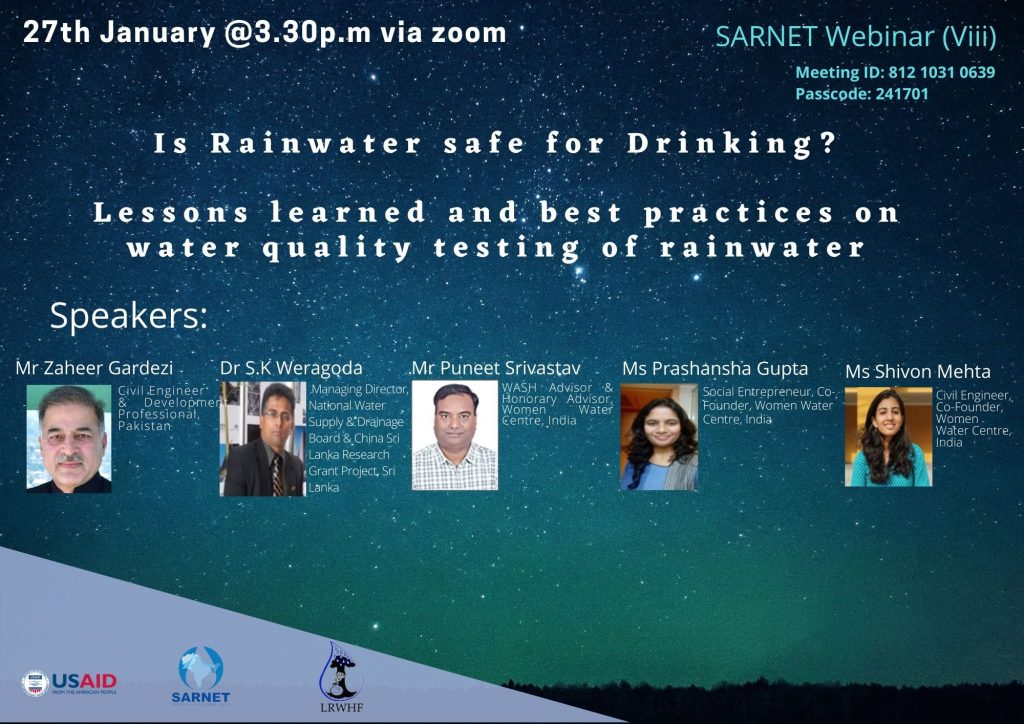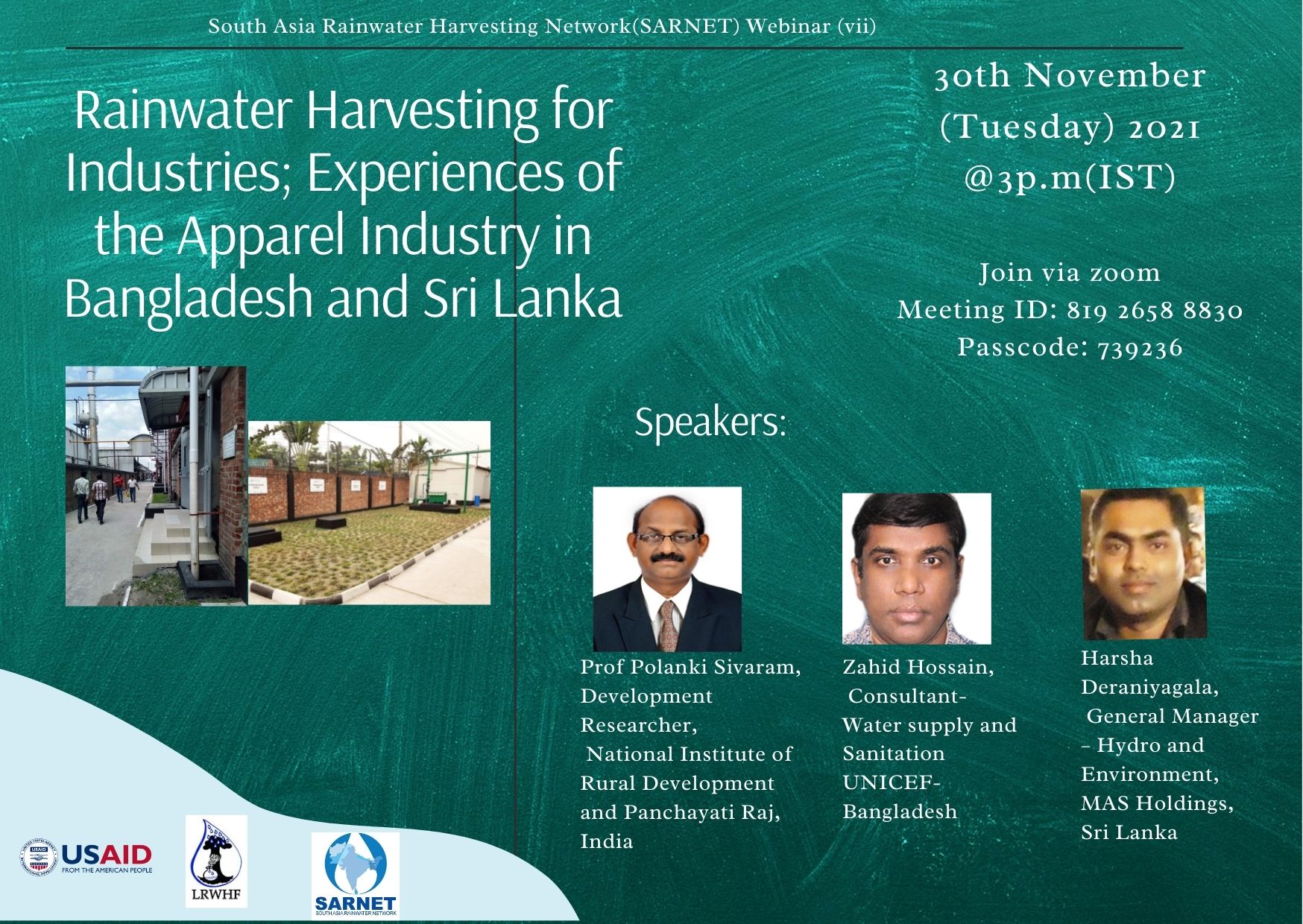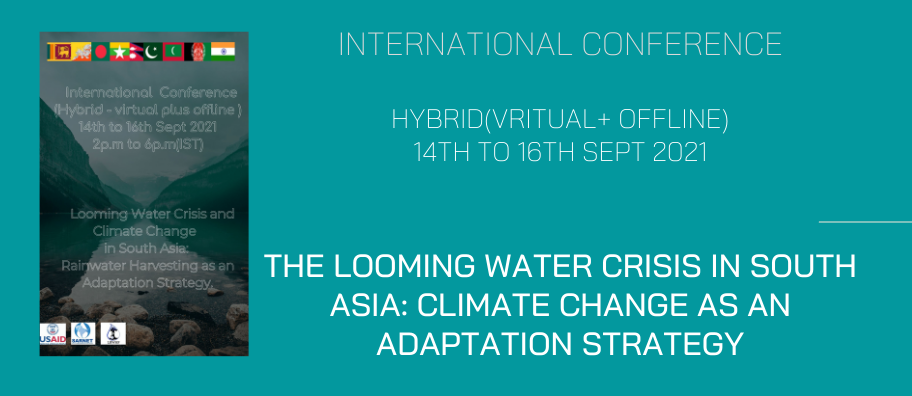 The 15th Edition of WATER EXPO 2021 one of the largest exhibitions in South Asia is scheduled to be held at the Chennai Trade Centre, Nandambakkam on 15th, 16th & 17th July 2021. The 15th Edition provides an excellent platform for business and networking for professionals and enthusiasts of water and to showcase new technologies and success stories.
Read More https://waterexpo.biz/index.php/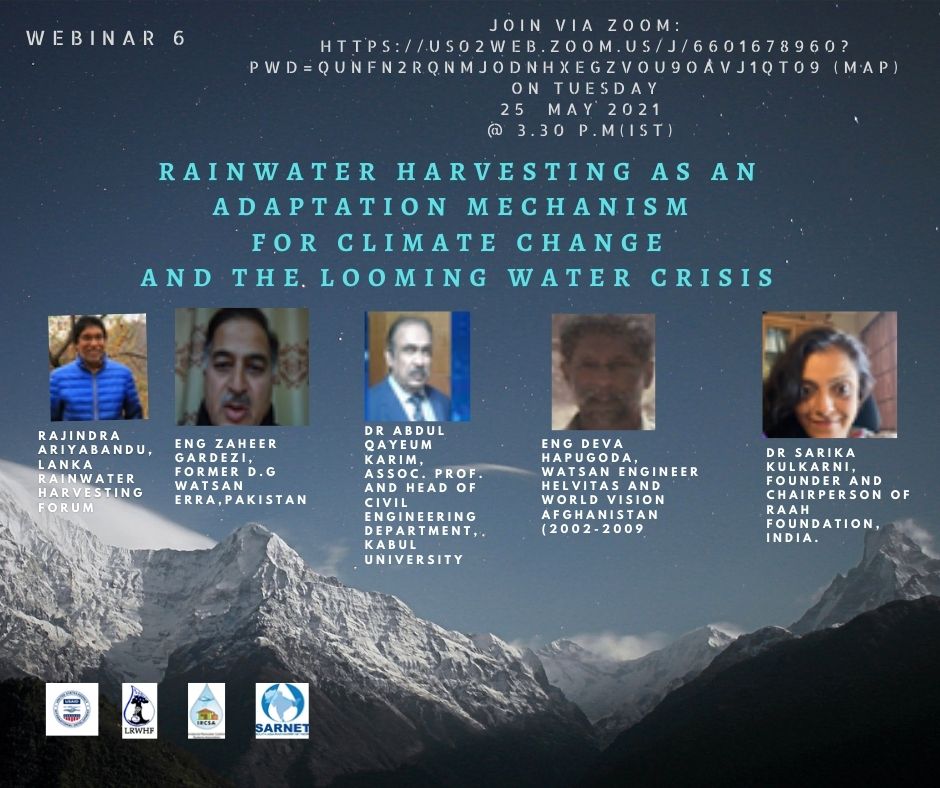 Webinar 6: Key Findings – https://drive.google.com/file/d/1xOyoMMZyeUzKW2hSYh8DQzVmfB_MhPFu/view?usp=sharing
International Conference on Rainwater Harvesting and Water Management will be held on March 25-26, 2021 in Tokyo, Japan. This conference aims to bring together leading academic scientists, researchers to exchange and share their experiences and research results on all aspects of Rainwater Harvesting and Water Management. The conference solicits contributions of abstracts, papers and e-posters that address themes and topics of the conference, including figures, tables, and references of novel research materials.
For More Information https://waset.org/rainwater-harvesting-and-water-management-conference-in-march-2021-in-tokyo
The theme of the World Water Day 2021 will focus on the theme, 'Valuing Water'. This focus will extend beyond issues of pricing to include the environmental, social, and cultural value people place on water.
Every year World Water Day is observed across the globe on the 22nd of March. World Water day became a UN observance day in 1993. It seeks to focus attention on the global water crisis. On 22 March every year, people and organizations mark World Water Day by taking action to tackle the water crisis.

For more information www: https://www.worldwaterday.org/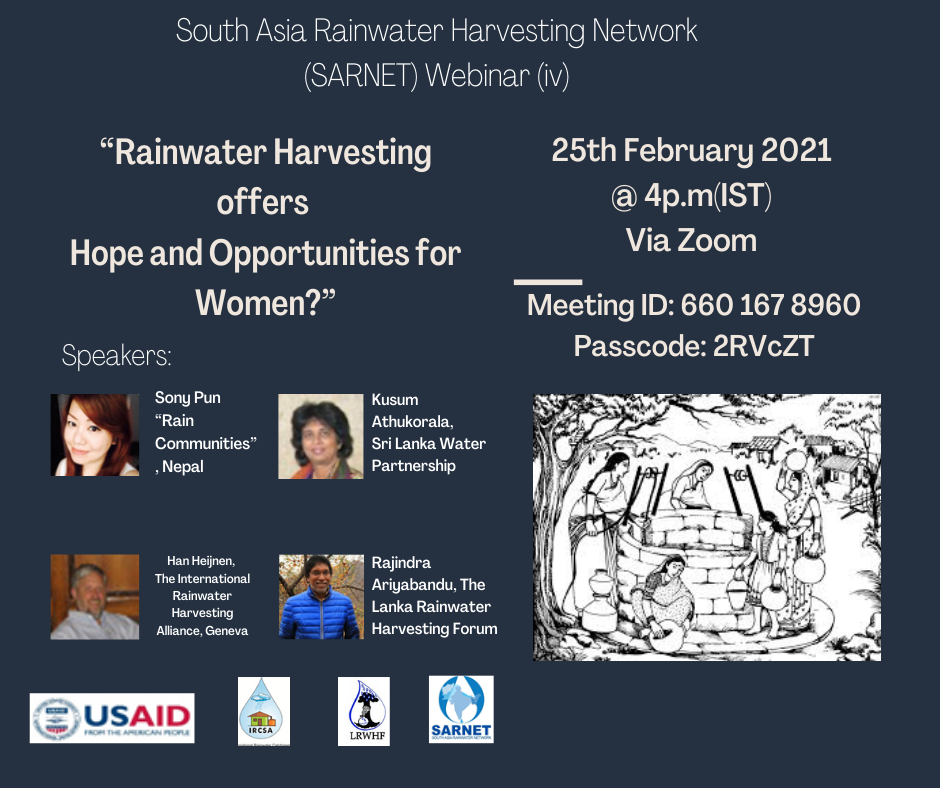 Rainwater harvesting has provided access to water at the doorstep for women thus enabling them to engage in economic activities, continuing education and maintain good health while also preserving culture and traditions expressed by the participants at the 4th webinar concluded on the 25th of February 2021.
For more information: https://drive.google.com/file/d/1QUuvYhtjFvtxXvmDFlT_FWBXHFCXbtaP/view?usp=sharing
Watch: https://www.facebook.com/sarnet.lrwhf.9/videos/238856104630539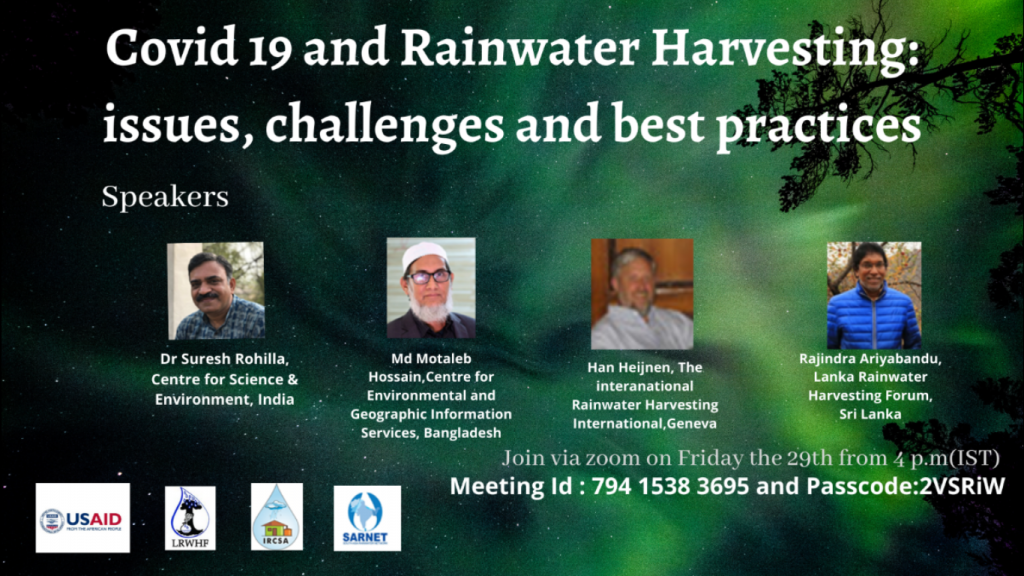 The webinar highlighted increased water use in the South Asia region, issues related to contamination that has taken a back seat with Covid 19 such as the Arsenic contamination and the increased pressure on ground water table. The participants shared their observations on the potential of rainwater harvesting as a mitigatory measure.
For more information https://drive.google.com/file/d/1ATGjlvIdYvoeAGyA-0MM07ipwBSUqrd9/view?usp=sharing