01. Bengali Song
Clouds sometimes come to the canvas of my mind. In the evening of Shravan, that cloud comes down to quench the thirst of the earth.
This song of Srikanto Acharya from his album BRISHTI TOMAKE DILAM was published by Sagarika Music Pvt. Ltd. in the year 2000.  The song was written by Lilamoy Patra and tuned by Joy Sarkar.
Song Meaning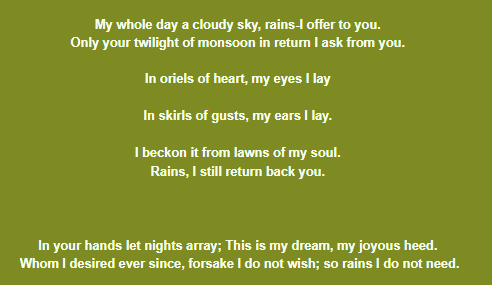 Lyrics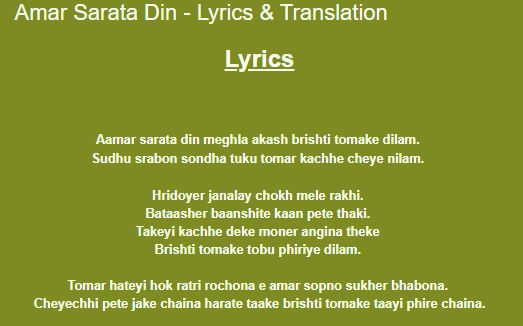 02. Pakistan Song
Song composed in Pakistan to promote rainwater harvesting by the Earthquake Reconstruction Rehabilitation Authority(ERRA) Project in 2010-14.
03. Water song
National Research Council of Sri Lanka
04. Monsoon Song "Asarai Mahinama" from Nepal
Song: Asarai Mahinama, Year: 1976
Original Singer: Chuujang Dukpa
Lyrics/Music: Tulsi Gazmer
The song is about a husband who is working abroad and misses his wife and son. He expresses how the monsoon rain drenches everyone and reminisces how his wife cried when he was leaving home for work. He feels his family back home is also missing him, especially his lonely wife who often remembers him despite being busy in household work and his son who keeps on asking his mother about his father's whereabouts.