A most effective way to share technical knowledge is to engage a skilled community member with another community. Even though the culture and customs may differ the problems are identical. Acute water shortage and lack of a regular and clean source of water were common to the community in Ethiliwewa in Monaragala in Sri Lanka and Begnas village in Pokhara in Nepal. As a mason with plenty of experience in the construction of pumpkin-shaped rainwater harvesting tanks Mrs. Malkanthi, a female mason, from Sri Lanka welcomed the opportunity to share her technical skills with masons from the Begnas region in Nepal.
Despite an abundance of freshwater resources, many regions in Nepal experience acute water scarcity during some months of the year. Main sources of water for households are met by either streams, rivers, springs, wells, or pipe-borne water supply schemes.  Even the water supply schemes sometimes fail to provide water due to technical failures or drought. In such instances, the women of the households who are the primary providers of water for drinking and household needs walk long distances downhill to fetch water. This journey of fetching water is arduous and often takes a few hours. The elderly members of families become the most affected when there is no regular supply of water in the neighborhood.
Rainwater harvesting was practiced by people during the monsoon using buckets and with less emphasis on hygiene. Only a little water was collected, and it could not be stored for longer periods.
The Dandathar community from the Begnas village in Nepal gets water for drinking from a communal tap stand and a water supply scheme is introduced to the village known as "Upallo Jyamire." However, this supply was not reliable due to technical problems in the system. Even the available springs in the area dry out during the dry season. The family of Mr. Bamdev Adhikari from Begnas like all others needed access to a regular supply of water at their doorstep as long walks to fetch water was becoming increasingly difficult day by day since he and other family members are senior citizens. Mr. Bamdev Adhikari himself is 78 years, his mother-in-law is 107 years old, and his wife is 70 years.
A clean and regular source of water supply for such regions require investments in water supply schemes, affordable and appropriate technologies for the local context and availability of technical skills at the community level. Kanchan Nepal, a local NGO, with the support of the International Rainwater Harvesting Alliance (IRHA) joined hands with the Lanka Rainwater Harvesting Forum (LRWHF) to address this situation.
Communities from regions battered due to lack of water are ready to adopt rainwater harvesting particularly as it provides easy access to water at the doorstep and saves time in travelling long distances to fetch water. Such communities need technical knowledge and skills to adopt rainwater harvesting and storage in their villages. Lanka Rainwater Harvesting Forum has long years of experience in providing solutions to areas that experience severe water shortages in Sri Lanka. Among several masons trained by LRWHF Mrs. Malkanthi, the first female mason trained from Monaragala in Sri Lanka was selected to undertake the training of the masons on constructing the Sri Lankan pumpkin-shaped rainwater harvesting tanks in the Begnas village in the beautiful Pokhara valley in Nepal in December 2021.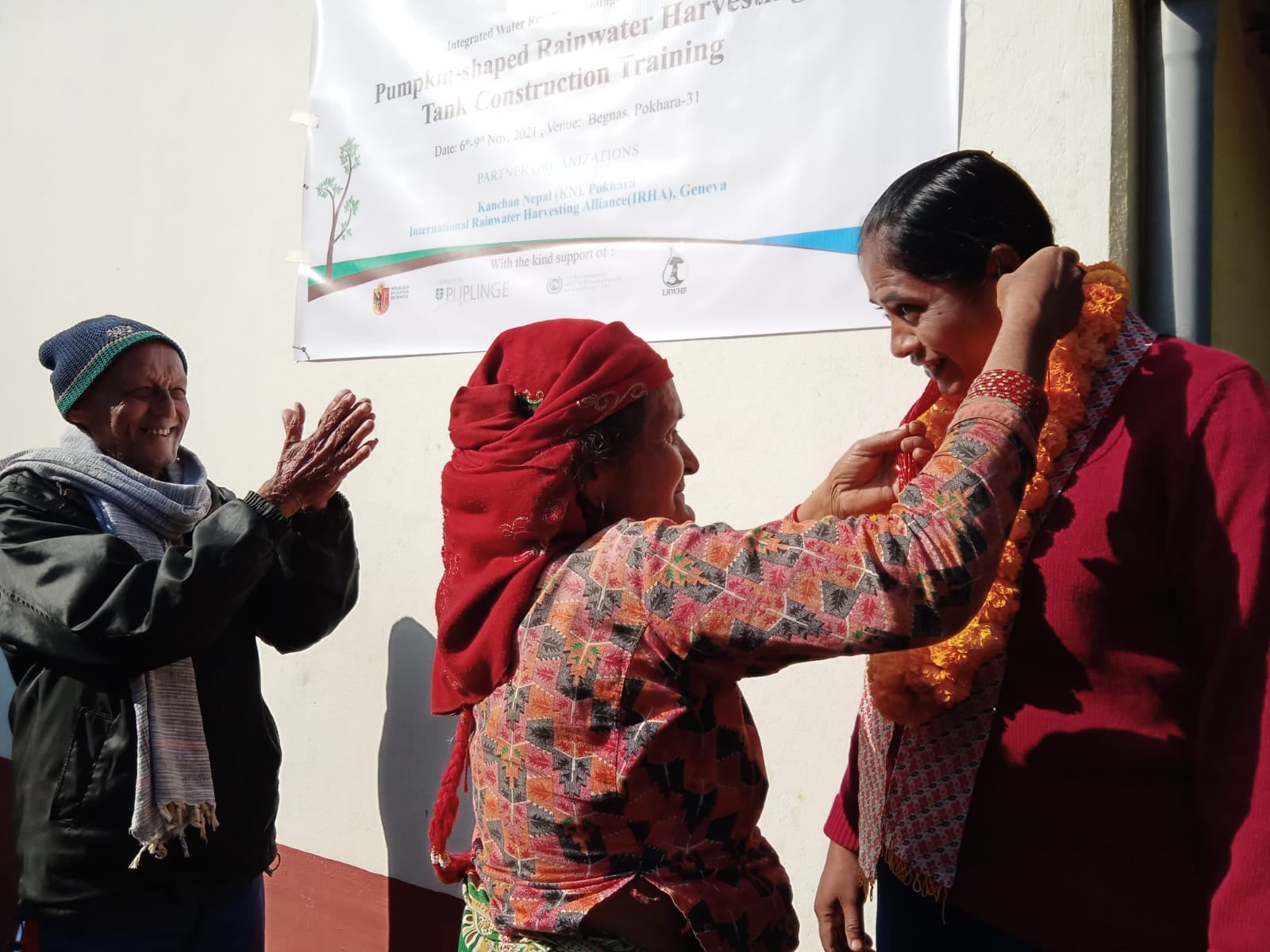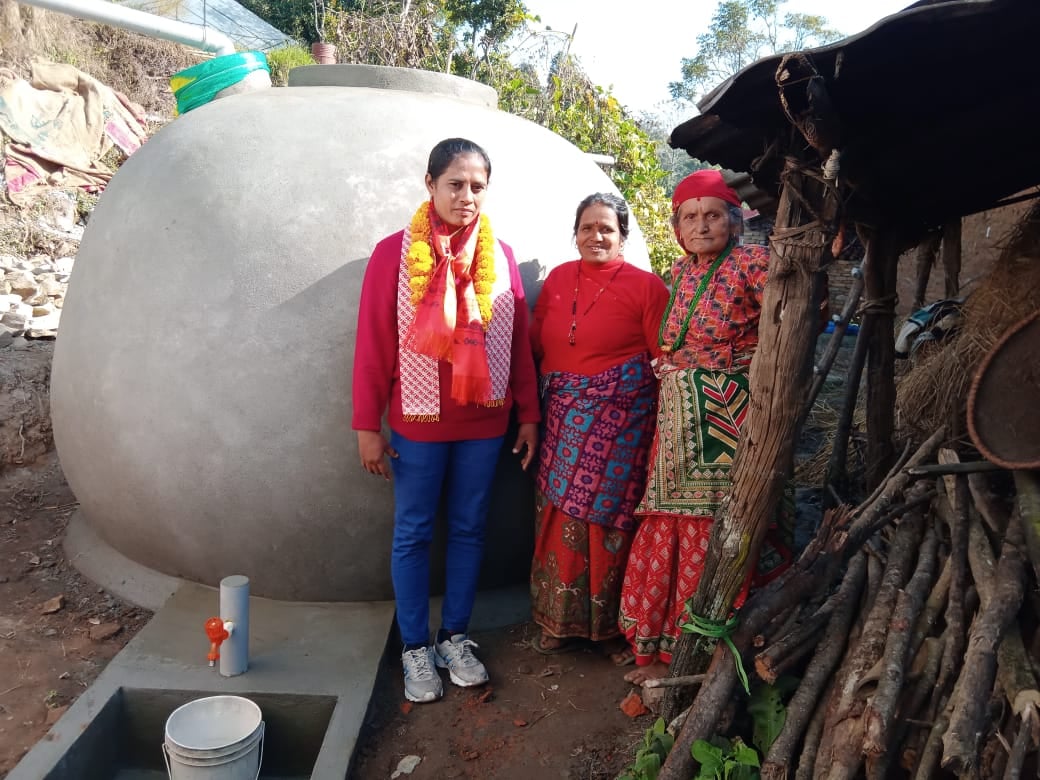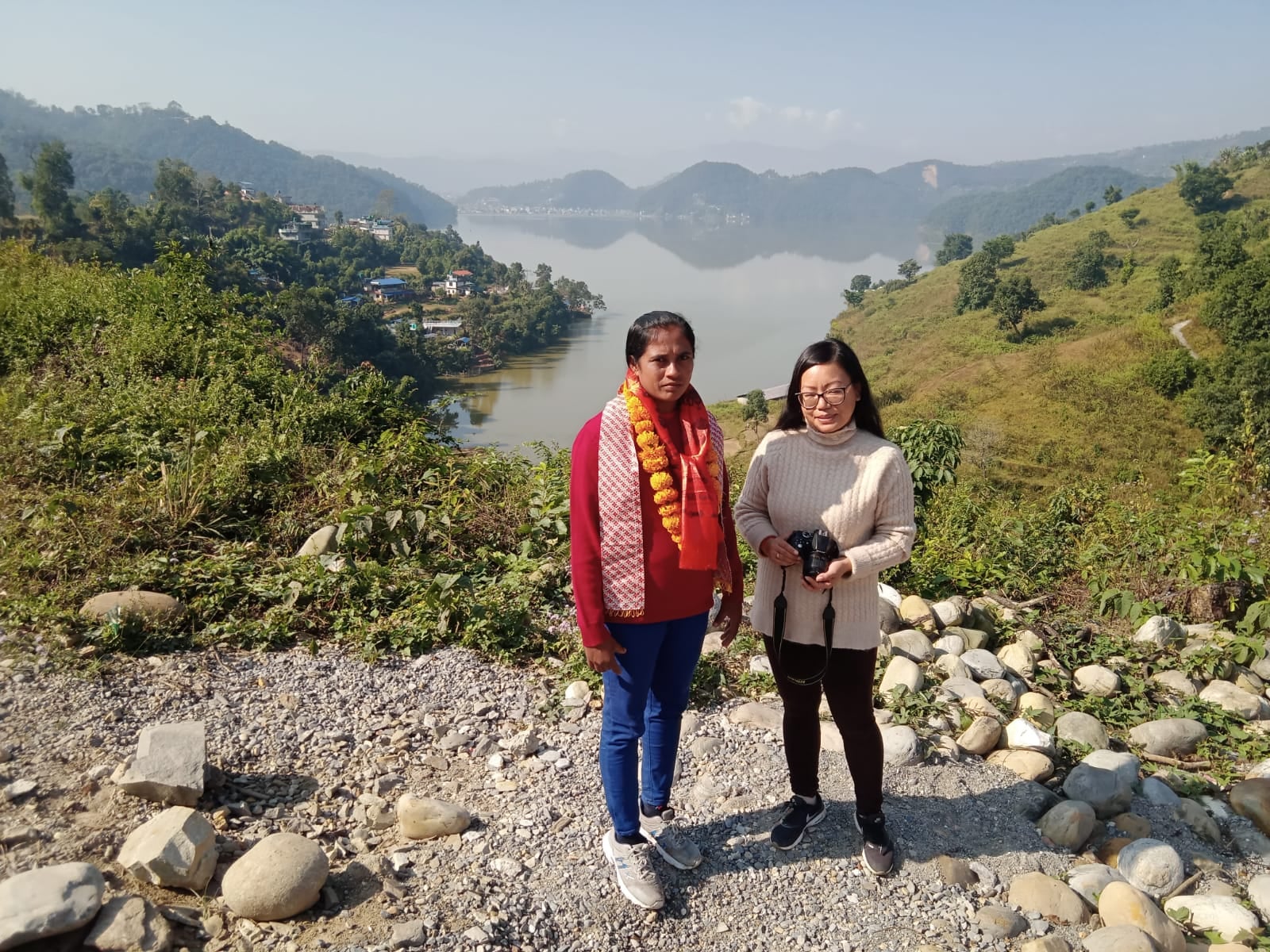 International Rainwater Harvesting Alliance (IRHA) suggested introducing the 8 m3 pumpkin tank used by Lanka Rainwater Harvesting Forum in Nepal to demonstrate a more cost-effective storage tank that could be purchased and built by households themselves. The tank uses a formwork of 8 metal guides that are fixed to a metal circular rim at the bottom and the top and so forms the pumpkin shape. Chicken wire or any other suitable wire mesh is then tied to the metal guides and good quality mortar is used to make the first coat of plaster. Finishing with more coats takes 4 days, after which the tank has to be cured for some 3 weeks.
Mrs. Malkanthi arrived in Begnas on the 6th of December 2021 eager and excited to work with the local community of Begnas, Pokhara. Begnas village is situated 30 Km away from Pokhara city (the tourist capital of Nepal) in Kaski District in the Gandaki Zone of northern-central Nepal. The district represents a tropical to subtropical climate with an annual rainfall of 1128 mm (DADOb 2007). The annual mean maximum and minimum temperature of the district is 30.4°C and 18.1 °C respectively.  It was the first time for Mrs. Malkanthi to leave her three children and her home in Sri Lanka.  She did not feel her lack of Nepali language or the cold climate in the mountains of Nepal challenging.
The training program to construct the Pumpkin shaped rainwater harvesting tank was held at Mr. Bamdev Adhikari's residence for 10 days. Mrs. Malkanthi worked closely with her male counterparts supervising them and engaging in the construction. The language was no barrier for sharing the technical skills with the local masons as these were experienced in their own right.
Ms. Sony Pun, a Project Officer from Kanchan Nepal, expressed that the project used a unique approach of facilitating knowledge sharing for empowering communities.  Speaking about the benefits of the particular approach Sony stated that the construction of Pumpkin shaped rainwater harvesting tank had a cost saving of nearly US$ 400.  Also, the pumpkin tank had a capacity of an additional 2000 liters than the domestic rainwater harvesting tank currently being used in Nepal. The capacity of the former is 8000 liters while the capacity of the latter is 6000litres.
Upon completion of the first pumpkin-shaped rainwater harvesting tank, Kanchan Nepal intends to construct a further 9 tanks to benefit over 50 members from the Begnas community. This project is funded by Kanchan Nepal and International Rainwater Harvesting Alliance and supported by Lanka Rainwater Harvesting Forum.